They carry out critical marine work that is vital for the building of major infrastructure and to keep the city going
In space-starved Hong Kong, the availability of land for housing and commerce is a constant obsession, to the extent that most people tend to forget about the sea and its importance for the city's development.
Nearly two-thirds of Hong Kong's total area is under water, but few are aware of how much critical marine work is involved in infrastructure development and keeping the city going, except for a niche profession of hydrographic surveyors who specialise in offshore mapping.
They regularly head out to sea on vessels equipped with high-tech sonar gear to scan the seabed, collecting data on geological features such as submerged rock and coral formations, the depth of the water and the composition of the seabed. The data is then charted and updated on maps.
But hydrographers do more than just mapping the 1,648 sq km of surface water. Major infrastructure projects taking in the sea – from the three cross-harbour tunnels to the planned HK$141 billion third airport runway – would not be possible without their work.
"Everything from the airport, tunnels and bridges, anything built on water, requires surveying to see where the best location to build it would be," said Matthew Lai Wing-cheung, director of EGS, an international surveying company based in Hong Kong.
"For example, the airport wasn't originally intended to be built at the north of Chek Lap Kok island. Initially [consultants] thought of building it to the south, but after surveying, we found that it was not suitable because there was a lot of silt [in that area]. The budget would have been too high."
Lai, 62, said charting the most suitable locations was a key part of feasibility studies prior to starting any infrastructure project, as hydrographers would have to look for developable space on the seabed. The surveying work continues right through until projects are completed.
Hidden beneath Hong Kong's waters is a labyrinth of tunnels, submarine fibre optic cables, oil and gas pipelines and environmentally protected zones that any construction work needs to steer clear of.
However, demand for hydrographic surveying to build major offshore infrastructure projects has slowly dwindled over the past two decades.
Lai, who has worked with EGS for almost four decades, has witnessed the explosive growth in demand for his profession's services with the construction of the airport in the early 1990s. It was one of the biggest undertakings, linked to 10 large-scale engineering projects , such as the Tsing Ma Bridge and the Western Harbour Crossing.
"Most of the major infrastructure projects were already completed [by the time of the city's handover to China in 1997], so we decided to expand outside of Hong Kong," he said.
"Today, some 90 per cent of our work is done outside of Hong Kong, and most of our work here is to survey for submarine fibre-optic cables."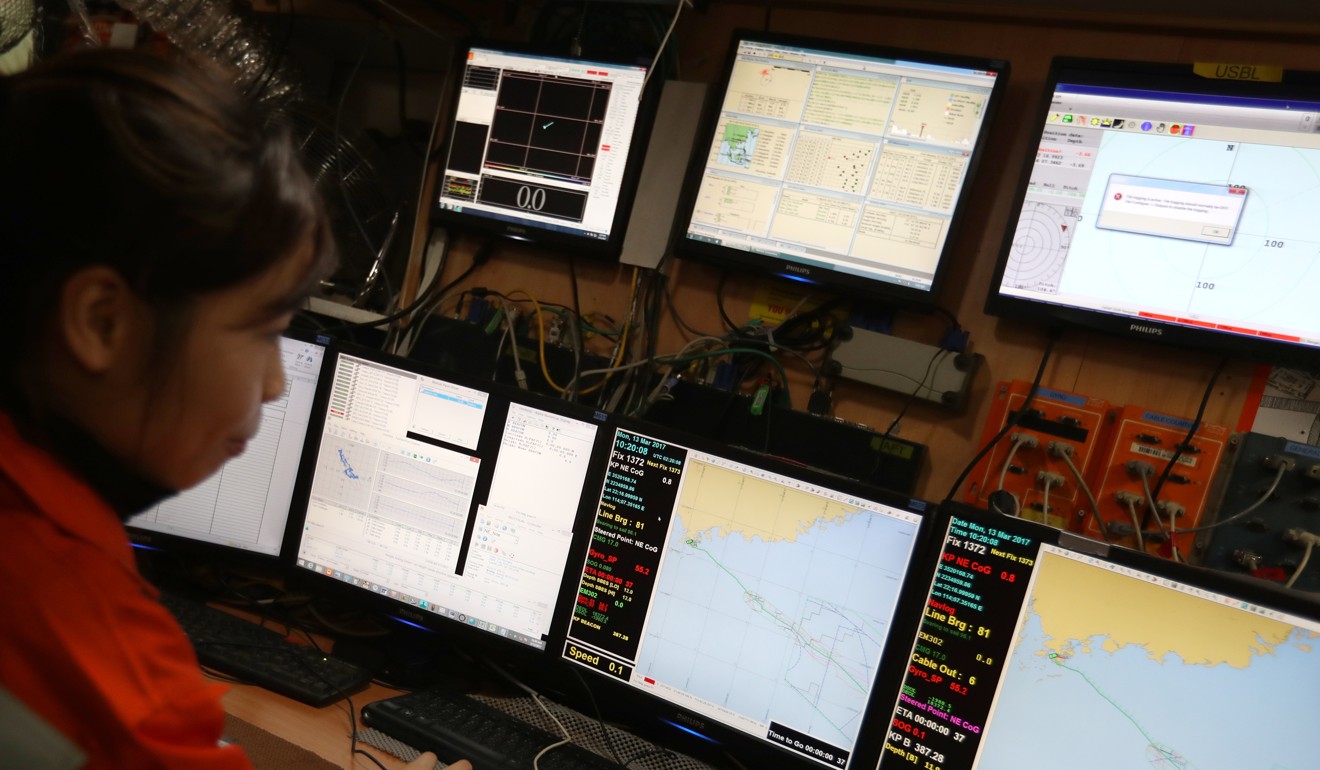 The government, which is the only other major party involved in hydrographic surveying, performs additional roles in surveying of an entirely different kind.
The Hydrographic Office, under the Marine Department, also serves as an administrator for updating official electronic navigational charts in the contested South China Sea. But its role is merely administrative and free of politics.
"We do not deal with any political issues as the map does not show any territorial claims, but only purely to update technical hydrographic data for safe navigational purposes," said Stephen Wong Chun-kuen, deputy hydrographer at the department.
Separately, a team of 13 survey officers from the Hydrographic Office is on 24-hour standby to help locate any sunken vessels or objects that have fallen into the sea.
Most of the time it's to locate containers that have fallen off cargo ships," said Willie Tang Wing-lun, the goverment's first professionally trained hydrographer. "At least four to five people are on call, and we go out on a boat in the middle of the night to scan the sea, trying to find dozens of containers. Hong Kong's waters are too murky, so we have to survey the area before divers are sent down to check."
Tang said surveyors took turns on shifts to ensure that navigation channels were safe and obstacle- free for the tens of thousands of ships using Hong Kong's waterways every year.
One of the government's most memorable underwater finds, Tang recalled, was probably assisting police in locating a sunken Mercedes-Benz that was being smuggled across the border to the mainland in 1993.
The smugglers, with marine police in hot pursuit, were heading towards mainland waters when their speedboat caught fire and capsized, sending the luxury car into the sea.
"It took days for us to find so it could be used as evidence for a police investigation," Tang said. "Sometimes, trying to find these things are like finding a needle in the ocean. But that's our job, we managed to find it in the end."
The people in this low-profile profession may not see such excitement these days, but their crucial work goes on.